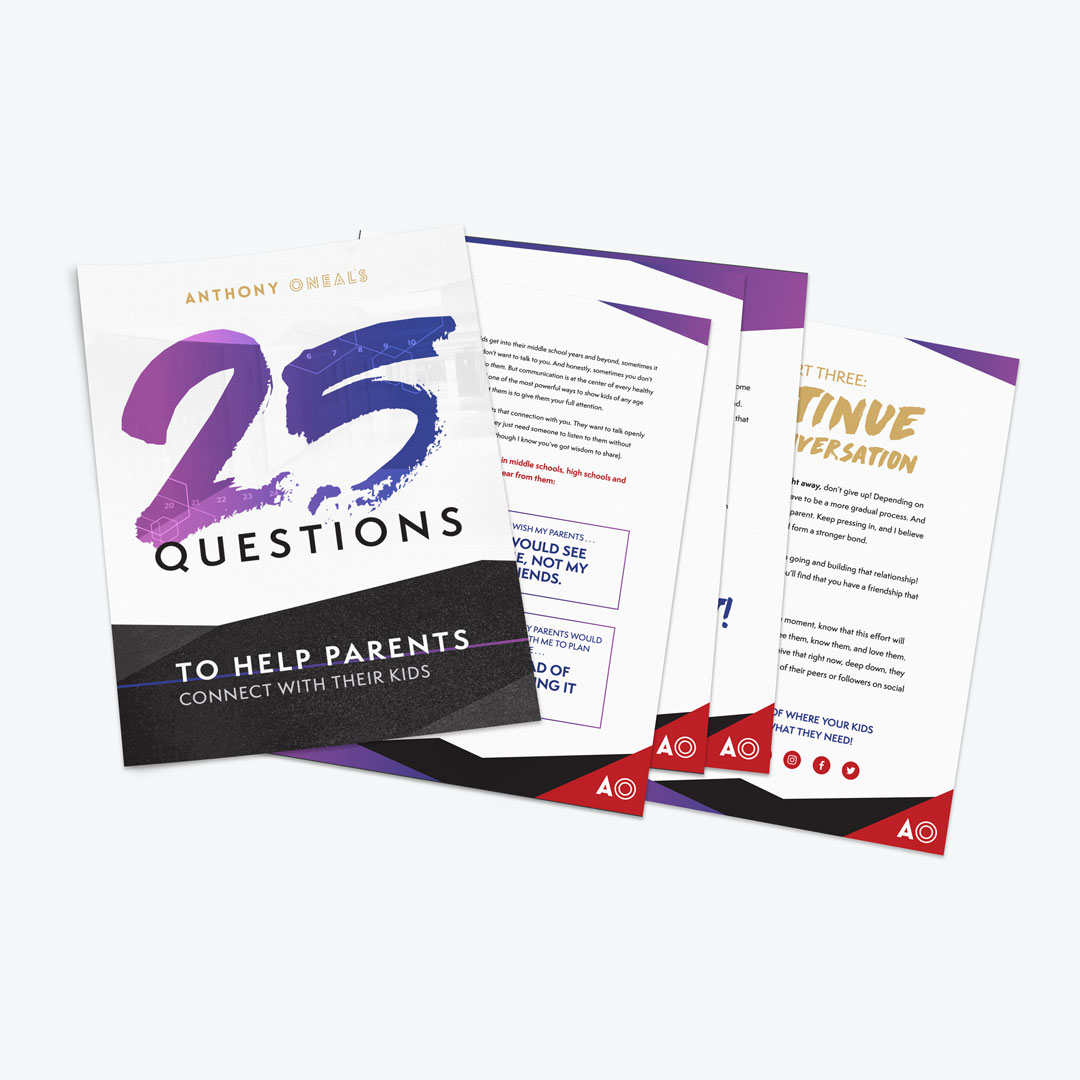 Anthony ONeal's 25 Questions to Help Parents Connect with Their Kids (PDF)
Questions to Help You Strengthen Your Bond with Your Kids
Description
Parents, I get it.
When your kids get into their middle school years and beyond, sometimes it feels like they don't want to talk to you. And honestly, sometimes you don't feel like talking to them. But communication is at the center of every healthy relationship—and one of the most powerful ways to show kids of any age that you care about them is to give them your full attention.
Even if they don't always admit it, your child wants that connection with you. They want to talk openly with you without fear of judgement. Sometimes they just need someone to listen to them without responding with an instant solution or lesson (even though I know you've got wisdom to share).
As I travel around the country talking to kids in middle schools, high schools and colleges, there are four things I consistently hear from them:
I wish my parents would be in the present with me.
I wish my parents would see me, not my friends.
I wish my parents would just respect my opinion.
I wish my parents would work with me to plan my future instead of planning it for me.
If you've been struggling to connect with your kids lately, here are some ideas—based on the sentences on the first page—that'll help strengthen your bond. You'll find tips on starting a conversation that feels natural and a series of questions that will help your child open up (without making you feel like you're grilling them).
You are what your kids need.
They might be on their way to becoming independent adults, but that doesn't mean they don't still need to connect with and learn from their parents.
No amount of Instagram likes can measure up to the affirmation they get from you—so don't hold back!
Grab this free guide today to start connecting with your kids.
Note: After download, we'll check in via email when we have similar helpful tips and free content that match your interests! Don't worry, we'll only send you good and helpful content from time to time.
Customer Ratings and Reviews
About Anthony ONeal
Shipping & Delivery
Downloadable PDF
Your downloadable product(s) will be available in the order confirmation email you received at checkout. Look for the heading, "Digital Downloads" in the confirmation email and locate the provided product download link. Right-click on the link and select "Save Link As" or "Save Target As." Change the destination location to "Desktop" and select "Save."