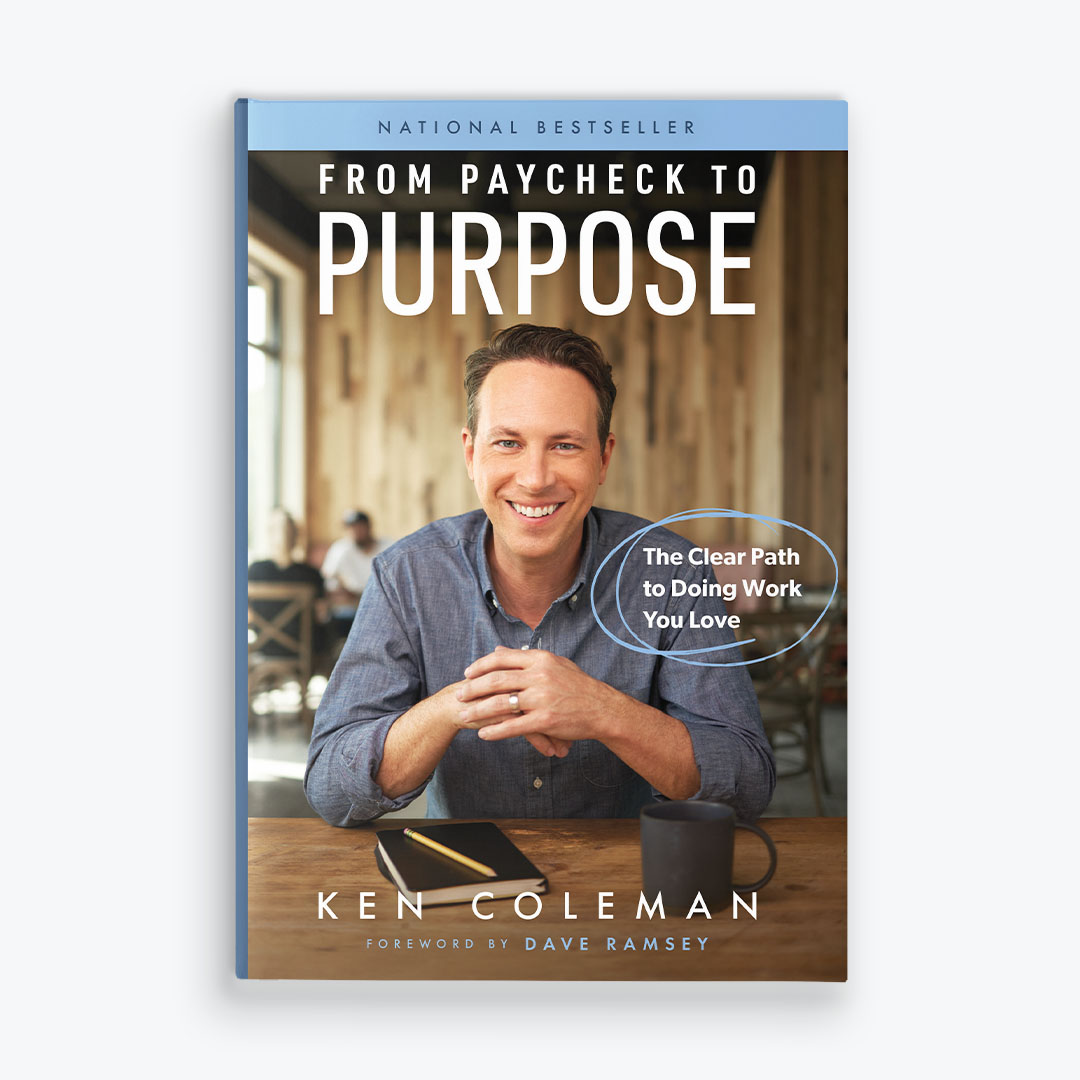 From Paycheck to Purpose
The Clear Path to Doing Work You Love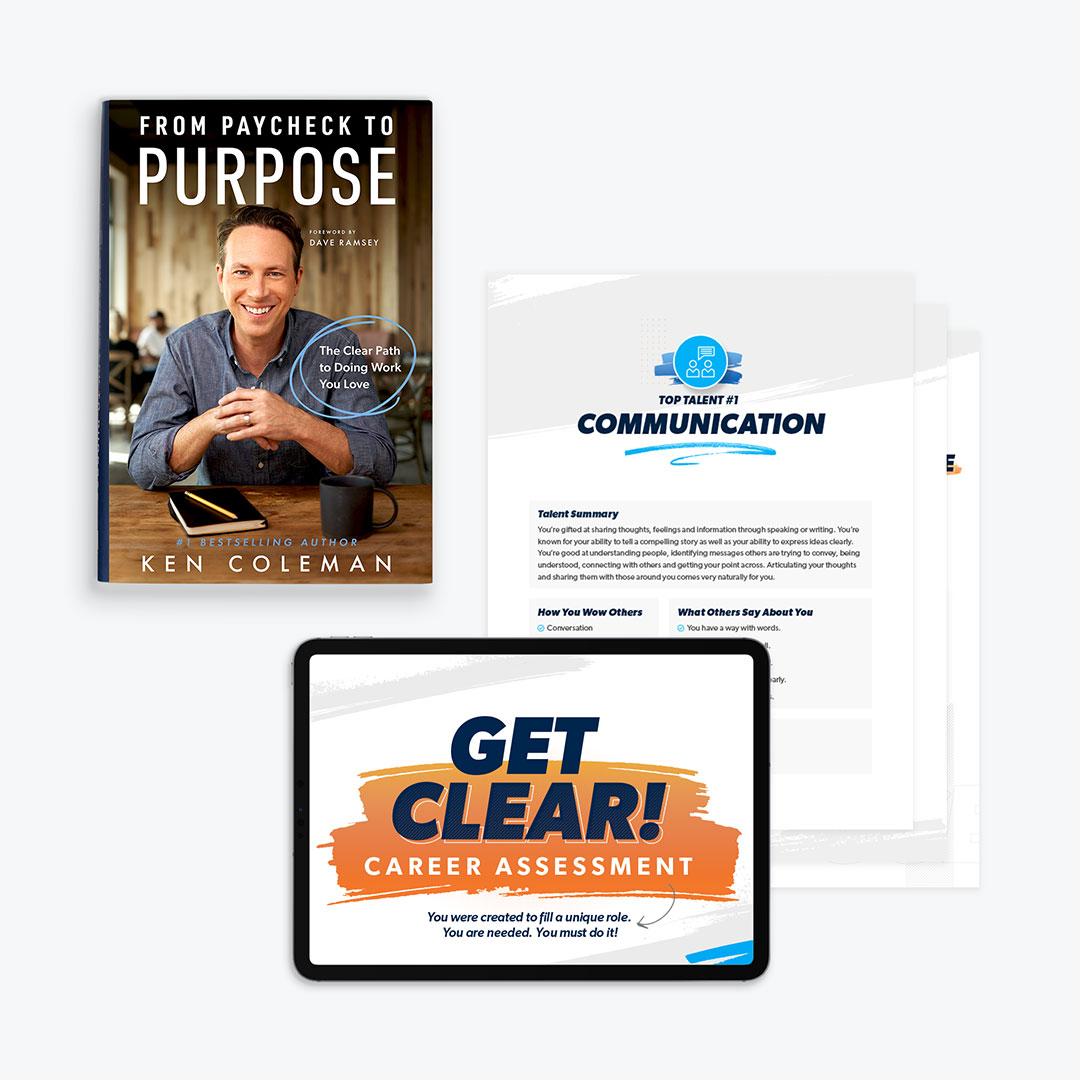 Upgrade and Save!
Save when you bundle From Paycheck to Purpose with our brand-new Get Clear Career Assessment.
Description
The dream job is real, and you were designed for work that really matters.
Whether you're stuck somewhere along the ladder, or you're stuck in a nine-to-five that just pays the bills, it's time to stop settling for another paycheck and find real purpose in the work you love. This book from America's Career Coach and #1 national bestselling author Ken Coleman gives you the game plan to reach your career goals.
At the age of 33, Ken Coleman realized he was stuck in work that didn't fit his personal talents, passion or mission. His wake-up call to create a clear path to work he loved became his calling. His clear path led him to become a nationwide talk show host, career coach, and national bestselling author. Now he helps thousands of Americans find their unique calling and clear path on The Ken Coleman Show every day!
This book isn't just a concept—it's a proven clear path that will walk anyone in any industry with any experience through the step-by-step plan to finding work you love. You'll learn how to build your skill set and do work that matters to you.
From Paycheck to Purpose will walk you through each of the seven proven stages to finding meaningful work and how to apply them to where you are right now so you can get where you need to go:
Get Clear—How to find your talent, passion and mission (and find a job that combines all three)
Get Qualified—How to build the right skill and certifications to land your dream job
Get Connected—How to find the right people and expert advice to land the job
Get Started—How to get plugged in and put your passion to work in a new role
Get Promoted—How to grow, build influence, and maximize your impact in your role
Get Your Dream Job—How to step into your strengths and lead others to make an impact
Give Yourself Away—How to create a legacy and have lasting impact on others
This isn't just another pep talk—it's the proven playbook for making an income with REAL impact.
Customer Ratings and Reviews
About Ken Coleman
Product Details
Pages: 272
Publisher: Ramsey Press
Format: Hardcover
Release Date: November 9, 2021
Chapters: 13
Language: English
ISBN: 9781942121534
Genre: Personal Development, Career
Audience: People looking to find a new job or make a career change; people looking to get promoted in their dream job
SKU: 9781942121534OLP
Table of Contents:
Foreword
Acknowledgments
Introduction
Stage 1: Get Clear on What You Were Born to Do

Chapter 1: Clarity Is Your Superpower
Chapter 2: The Simple Way to Get Clear

Stage 2: Get Qualified for the Work You Want to Do

Chapter 3: The Four Questions to Get You in the Door
Chapter 4: The Secret to Sticking with It

Stage 3: Get Connected for Opportunities

Chapter 5: You Already Know Everyone You Need to Know
Chapter 6: The Art of Connecting

Stage 4: Get Started on the Journey

Chapter 7: The Enemies of Progress
Chapter 8: Start the Right Way

Stage 5: Get Promoted Up the Ladder

Chapter 9: Win the Now to Get to the Next
Chapter 10: Five Qualities that Bring Promotions to You

Stage 6: Get Your Dream Job

Chapter 11: How to Tell the Difference Between the Dream and a Mirage
Chapter 12: How to Keep the Dream from Becoming a Nightmare

Stage 7: Give Yourself Away to Work Like No One Else

Chapter 13: Expand Your Vision

Conclusion
Notes
Shipping & Delivery
Physical Shipping
All physical products will be processed and ready to ship within two business days (often even faster). The total delivery time depends on the service you select and where your order is being delivered. You may see multiple shipping options to choose from during checkout. Our default choice will always be the most economical but not necessarily the fastest.